Summerville Shooting Plot Used As Tool In School's Safety Drill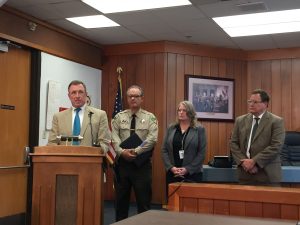 Press Conference On Summerville High's Planned Attack

View Photos
Tuolumne, CA — Summerville High School ran a "Safe School Drill" this week, but not in direct response to the thwarted shooting plot that put four students behind bars, according to Superintendent Robert Griffith.
As previously reported, earlier this month Tuolumne County Sheriff's officials arrested the four classmates for conspiracy to commit an assault with deadly weapons after making threats against students and teachers on campus. Griffith reports the drill with Sonora Police and Tuolumne County Sheriff's Department had been previously scheduled and is not a reaction to the incident. However, he acknowledges the incident has been assimilated for use as part of training tool sharing. "It definitely brings a higher level of intensity and focus. Everyone is much more aware that these aren't activities we do just to waste time but now people realize these things do happen in the world and could even happen here."
The safety training program called A.L.I.C.E., which Griffith shares stands for Alert, Lock down, Inform, Counter and Evacuate.  He explains, "If you were to break that down to three responses, one is freeze that's kind of like a lock down, one is flight and that's is to evacuate and get away from the threat, and the third one, actually, is to fight or confront…of course that is the last option." He adds that this training comes out of some of the worst violent attacks on the nation's schools, which found holes in past response efforts and seek alternatives that could have a much higher success in neutralizing one or more intruders and saving lives in a crisis.
As for this past Thursday's drill, Griffith reports it went well, while interjecting, "It's not one and done training. This will take many revisits to make sure all [staff, students, and parents] understand the new protocols" He points out that these drills help discover problem areas like "a door left unlocked or a maintenance issue with one sticking" that need to be fixed.
The school hopes to schedule the trainers returning within weeks and throughout the school year, according to Griffith, to provide more hands-on drills, which at some point will include a shooter lockdown situation.