Trespassers Killed In Rail Road Flat Identified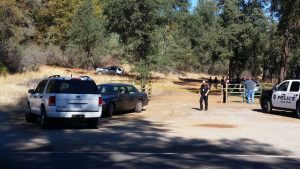 Law Enforcement Activity In Railroad Flat

View Photos
Rail Road Flat, CA — The Calaveras County Coroner has released the names of the three men who were shot while allegedly trying to steal marijuana plants.
They are 44-year-old Terry Glen Looney Jr. of Waterford, 46-year-old Wes David Smith of Snelling and 60-year-old Robert Daniel Haney of Modesto. Coroner Kevin Raggio says the autopsy confirmed that all three of the men died from gunshot wounds, but said he could not comment on how many bullets hit the men.
As previously reported, 38-year-old Leon Michael Grammer spotted the trespassers trying to steal the plants from a medical marijuana garden on Tuesday morning in the 1400 block of South Rail Road Flat Road. Grammer quickly telephoned his brother, 30-year-old Jeremiah Lee Barrett. The Sheriff's Office reports that Grammer used a gun to discharge several rounds of ammunition at the trespassers.
Barrett then arrived and was the one that actually shot and killed the men, using a shotgun. Barrett was booked into Calaveras County on a charge of murder and Grammer was booked for being an accessory to the crime. An investigation into the incident is ongoing.