Supervisors Support Wild Animal Feeding Code Change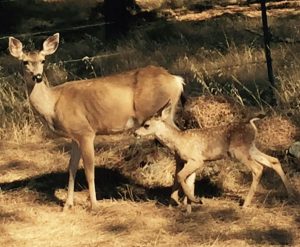 Deer moving through a backyard, foraging.

View Photos
Sonora, CA – State wildlife enforcement officials looking for local lawmakers to have their backs on proposed code changes pertaining to feeding wild animals got unanimous nods from the Tuolumne supervisors.
According to Tuolumne County Administrator Craig Pedro, State Fish and Wildlife officials, seeking more flexibility in the field for enforcing laws against feeding wild animals, are proposing wording changes within a related code section that would allow its officers, at their discretion, to issue either an infraction or a misdemeanor citation to offenders, depending on the severity of their actions. As the code currently reads, violators are guilty of the more serious offense type.
District 1 Supervisor Sherri Brennan, who chairs the board's Natural Resources Committee, indicated that the proposed wording change was discussed at length in committee, which determined the amended law would serve as a tool for wildlife enforcement personnel in the field to better curtail problem activities, such as residents buying grain for the purpose of deliberately feeding local wildlife. She pointed to increasing concerns in areas with higher concentrations of wildlife interface issues, such as Groveland, querying Board Chairman and District 4 Supervisor John Gray for a comment. He wryly replied, "I know that it's not helpful if you live in a community that has a lot of deer to buy corn — it's not good for the deer and not good for the neighborhood, because when they run out of corn they start to eat your bushes."
District Attorney Laura Krieg, who indicated her overall support of the change at Tuesday's supervisors' meeting, suggested minor edits in the proposed code wording for legal accuracy.
A draft support letter prepared for the supervisors' approval notes that living in a rural county with an abundance of wild animals attracted to residential properties, creates concerns to ensure that the law be appropriate. To that end, the board requested the agency, in its code, provide additional clarification of the sentence that reads, "No personal shall knowingly feed big game animals" so as not to leave loopholes for issuing citations to residents who inadvertently  provide "food" for animals through plantings of rose bushes or fruit trees, or by storing hay bales for livestock.