Several Charges Follow Initial Traffic Stop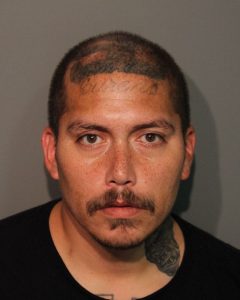 Edmund Santos

View Photos
Angels Camp, CA — Two men were pulled over for a traffic violation in Angels Camp, and the investigation that followed led to charges related to stolen weapons and gang affiliation.
A police officer stopped a Chevy HHR for expired registration tags on Appaloosa Road near Pinto Drive. The driver of the vehicle was 40-year-old Edmund Santos of Angels Camp and the lone passenger was 67-year-old Michael Airola, also of Angels Camp. The officer could smell marijuana in the vehicle, and Airola admitted that he was in possession of the drug, but did not have a valid physician's recommendation to possess it. The police department then conducted a search of the vehicle and found a handgun that had recently been stolen during an Angels Camp burglary. In addition a slungshot was found, which is a weapon that is illegal to possess in California.
Santos was arrested and taken to Calaveras County Jail on charges of possession of an illegal weapon, being a convicted felon in possession of a firearm, carrying a concealed weapon in a vehicle, carrying a loaded stolen firearm, being a gang member carrying a loaded firearm and participation in a criminal street gang.
Shortly after the traffic stop, a search warrant was obtained for Santos' residence in the 600 block of Copello Drive in Angels Camp. Law enforcement officials found additional stolen firearms and some narcotics. An individual located at the home, 35-year-old Alma C. Wasco, was arrested for possession of methamphetamine and child endangerment.
Meanwhile, Airola was arrested for possession of marijuana for sale.
The investigation is ongoing.