Spotted Owl Conservation Project Taking Flight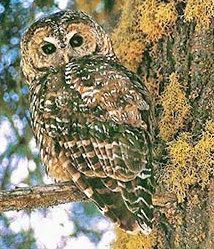 California Spotted Owl

View Photos
Sonora, CA – The U.S. Forest Service Pacific Southwest Region is teaming up with other federal and state agencies to come up with a conservation strategy for the California spotted owl.
The idea is for region's forest service officials to work with the U.S. Fish and Wildlife Service, the California Department of Fish and Wildlife, the National Park Service, and the Sierra Nevada Conservancy to offer management and conservation recommendations for forest managers to consider when planning activities and uses in national forests. Project Manager Jamie Rosen explains, "This isn't a typical project you might have seen on the Stanislaus [National Forest] like the Rim Fire recovery project where it was associated with a particular piece of land that came up with particular actions."
Rosen says the goal here is different; it is more of a vision than taking action at this stage. He says, "The plan is to come up with a document that has actual management recommendations, ideas and a broad strategy that would be applicable across the Sierra Nevada."
Region officials also want to hear from the public and have created a website (click here). The conservation strategy draft document deadline is the end of March 2016. The U.S. Forest Service is funding the project.