Classes For 'Computer Challenged' Residents Get Funding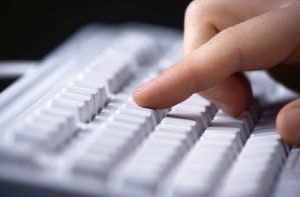 Typing on a computer keyboard

View Photos
Sonora, CA – Starting early next year, Tuolumne County residents may tap free computer training, courtesy of a multi-agency partnership, further fueled by $40,000 in local and state funds.
Three-quarters of the grant monies have been provided by the Sonora Area Foundation (SAF) and the remaining $10,000 comes through the California Emerging Technology Fund.
Especially geared for those interested in learning with little or no experience, the training will provide computer learning basics for a variety of electronic devices from computers to smart phones; securely navigating the Internet; maintaining online privacy; executing job searches and online education programs; working with photos, social media, and more.
Helping to spearhead the program is Darrell Slocum, who works closely with the nonprofit Amador-Tuolumne Community Action Agency (ATCAA), one of the community partner agencies behind the effort. He states that planning, space, programming, and other support is being supplied free of charge by ​Mother Lode Job Training, the Tuolumne County Superintendent of Schools ​Office and  county library.
Through the funding, Central Sierra Connect, a public-private nonprofit involved project of ATCAA focused on bringing access and a high level of digital literacy to the area, will administer and staff the program, according to Slocum.
Pointing to the demonstrated interest from the community in such a training effort and explaining ATCAA's role, Executive Director Shelly Hance states, "We previously facilitated computer classes at the ATCAA training lab in Sonora as part of a statewide program and…experienced the second highest take rate,  per capita, of any county in California."
Chiming in, Mother Lode Job Training Executive Director Jeff Dickason notes, "There is absolutely a significant need for basic computer training in our area. Basic computer skills are essential for even entry level positions in today's job market and we regularly see job seekers lacking the necessary tools."
A partnership committee is now working to develop the initial curriculum for the program, which will be learning geared to a nearly all ages audience. Slocum adds that he is now actively recruiting volunteer coaches to assist with teaching the learning skills, some of which will be delivered through online programs. As he states, "Interested applicants should be tech savvy, patient, flexible, empathetic  and possess a desire to help others improve their lives." Interested coaches may reach him for more details at 209 770-5777.