Butte Fire Fully Contained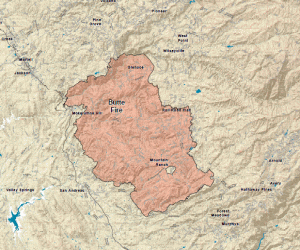 Butte Fire Map

View Photos
San Andreas, CA — After burning just over three weeks, the Butte Fire is 100% contained.
At the height of the fire, there were 4,961 fire personnel on scene, and there are now around 500. CAL Fire Captain Mike Mohler cautions, "We still have a lot of work to do. We have fire suppression repair, where we go back and look at areas that might have been damaged from the actual fire fight. Also, we are going to be working with the local counties as far as erosion control, because unfortunately we have areas that could have mudslides when we get into our winter months."
The Butte Fire started during the afternoon of September 9th in Amador County and by evening it had crossed over into Calaveras County. 475 homes and over 300 outbuildings were destroyed and 70,868 acres have burned.