Oak Fire Update, Anecdotes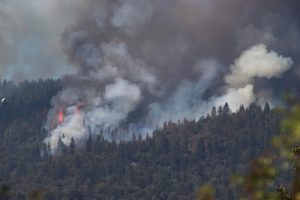 Oak Fire in Cedar Ridge

View Photos
Sonora, CA – Even with the Oak Fire near Old Oak Ranch and Big Hill roads in Cedar Ridge now 98 percent contained fire officials say they are hardly ready to "call it" yet.
At Tuesday's Tuolumne County Board of Supervisors meeting, Cal Fire Battalion Chief Barry Rudolph provided an update on the blaze that suddenly ignited Sept. 8 around 1:30 p.m. in what he views as a somewhat similar fashion as the Butte Fire but reached containment with the help of a full-on assault by a close arsenal of available resources before it could attain explosive growth.
Chief Rudolph indicates that firefighting costs are currently running at $634,000 on the Oak Fire, which is still holding at 108 acres. With personnel still actively working it, he states, "We've been at this a week and are still not ready to call this one." Both the initial fires that created the incident, he points out, started on southwest facing slopes in the afternoon in conditions that offered maximum heating and a slope in full alignment with the wind. "The odds were kind of stacked against us where they started," he states.
Too, at the time, there were two buildings, both with large occupancies that were directly in the fire spread path: Old Oak Ranch and the Sierra Outdoor School. Approximately 250 people were at the ranch when the fire smoke was noticed, Rudolph reports. Ironically, he shares, "Up there at the time…were four or five fire captains teaching 30 brand new firefighters basic firefighting skills, and there was a little OJT [On Job Training] for a few minutes." His dry delivery drew appreciative chuckles around the board chambers. As the captains took the engines down the hill to work on the fire, he says that others began evacuating the area.
A 'Standing O' For Fire Safe Efforts
Rudolph credits an evacuation route created by the Highway 108 Fire Safe Council and Sierra Outdoor School as key to the evacuation and firefighting response efforts. As fire blocked the Cedar Ridge access at the time, "There was no other option — we used it, and it worked – it was a success," he states. Recently completed fieldwork designed and completed by the fire council were also game changers, according to Rudolph, who expressed the volunteer group and Sierra Outdoor School deserved a "standing o[vation]" for their efforts.
Sierra Outdoor School Director Mike Olenchalk shares that the school was able to garner $320,000 in grants to help fund construction of the evacuation route, which runs through the campus to the Cedar Ridge Community. Before the work was completed, he describes the area as "a fire tunnel." Concurring with Governor Jerry Brown's recent comments on fuel reduction projects as necessary and smart investments in the state's wildfire fighting efforts, Olenchalk states, "We didn't do [the evacuation route project] just for us, we did it because we felt there was a need to help the community of Cedar Ridge, as well as what I like to call the Big Hill Metro Area." He notes that the school is continuing to address the challenges of taking down bug-killed trees on the property and hopes the county will work with the Forest Service to remove hazard trees that border on nearby forestlands.
Overall loss details from the Oak Fire, according to the Cal Fire Rapid Damage Assessment Team's latest report, include one residence and two outbuildings; a logging skidder and wood processor; three vehicles and a synthetic water tank. It also noted that three structures received fire damage. At the peak of the fire, which occurred on the first day, Rudolph described the weather conditions as a temperature at 89 degrees, Fahrenheit; 12 percent relative humidity; south, southwest winds at about 7-15 mph. At the time, he states, responders included 250 personnel; 23 engines; 7 crews; 2 dozers, along with a privately owned dozer working part of the right flank; a lead plane; 4 S-2s; one DC-10 air tanker; one C-130 air tanker; one large Type 1 helicopter, with 2,250-gallon capacity; and the Columbia Air Attack helicopter. The cause of the fire is still under investigation.
Cal Fire, which, at last check, has 59 personnel, 3 engines and 3 crews continuing to mop-up and patrol the Oak Fire area, advises people to please watch for personnel and equipment on the roads; in addition, for the safety of all concerned, use extreme caution driving there and consider staying completely away unless you are a resident.