Commission Approves BMM: No Litigation Anticipated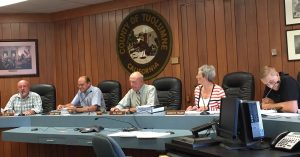 Tuolumne County Planning Commission

View Photos
Sonora, CA — After five years of going through the planning and review process, it appears that Blue Mountain Minerals planned expansion of its agricultural fill area will now move forward.
The Tuolumne County Planning Commission ok'd the 27-acre expansion by approving the Environmental Impact Report and the Conditional Use Permit.
18 months ago, the Planning Commission, and later the Board of Supervisors, approved a Draft Mitigated Negative Declaration for the expansion, however, the plan eventually was halted by a lawsuit filed by the Central Sierra Environmental Resource Center (CSERC). Rather than fight the lawsuit, Blue Mountain Minerals chose to conduct a full Environmental Impact Report.
At tonight's meeting, Blue Mountain Minerals CEO Jeff Redoutey said $721,540 has been spent over the past five years developing the project, and $384,300 alone was for the development of the EIR. He said he wished the money could have been spent in the community rather than on outside attorneys and representation. A change to the proposed project was that it now includes the protection of 13.5 acres of oak woodlands.
Much of the discussion at the meeting focused on "Condition 17" which John Buckley, Executive Director of CSERC, was pushing for inclusion. It calls for Blue Mountain Minerals to utilize its existing agricultural fill area as long as feasibly possible, prior to placing fill in the expansion area. If Condition 17 was included, CSERC agreed to drop its opposition. The Planning Commission approved the project, including Condition 17, with a 4-0-2 vote. The two members abstaining were Cole Przybyla and Charlotte Frazier, who cited that they have either personal or professional relationships with Blue Mountain Minerals, and chose to recuse themselves.
After the meeting Blue Mountain Minerals CEO Redoutey said, "It looks like we are finally at the completion of the approval process, and that feels really good. I really appreciate the community's support of Blue Mountain Minerals. About 90% of the comment letters that came in were very supportive of the project. It's been a long and expensive process, right down to the last minutes, and some final details about how we're going to implement the project."
CSERC Executive Director Buckley noted afterwards, "We are certainly not going to pursue any litigation on this matter, despite what we see as a very flawed EIR. Our perspective is that there is an agreement, and a middle ground has been reached. Now it is just up to the mine to follow through and do what they have promised."
The project could still technically be appealed to the Tuolumne County Board of Supervisors, but no other groups or individuals voiced opposition at tonight's meeting.
Click on the image below to read the entire wording of Condition 17.