A Side Trip Turns Into A Harrowing Experience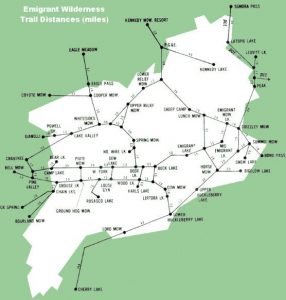 Emigrant Wilderness Trail Map

View Photos
Tuolumne County, CA – Two women braved four cold nights and walked 12 hours a day for five days to survive being lost in the Emigrant Wilderness in Tuolumne County.
It's a story of survival told to Clarke Broadcasting by Denise Diaz, 56, of Berkeley, who with her friend Laura Sherman, 57, of Oakland, took off last Friday for a hiking adventure to Bridgeport. However, on the way they stopped in Sonora, where a book on hiking the Highway 108 corridor caught Diaz's eye. One chapter described a beautiful lake in the Bourland Meadow area, north of Cherry Lake, so they decided to take a short detour. "We planned on hiking to the lake, taking a dip…then hiking out and back on our way," shares Diaz.
Parking their car, they set off, wearing just their bathing suits and t-shirts. They also brought a small backpack containing a towel, sarong, granola, and two bottles of water. After hiking for several hours, at sunset the two realized they were lost and bedded down for the night. Two more days passed as they continued to search for their car, which was nowhere in sight. With no water left and their already meager food supply pirated by a squirrel, it was time for drastic measures. "Our bodies were definitely distressed," says Diaz. "We drank our urine. Of course, drinking urine is no fun and gross…I figured it was some liquid, but it was not quenching our thirst." Fortunately, the two did find a small creek to drink from, but on the third day as Sherman spirits spiraled, Diaz went into cheerleader mode. "I told her, 'We have to focus on getting out of here…we can't panic.' Deep down inside, I was thinking about things like, I hope I see my daughter again. I hope I see my friends again. I'm too young to die."
Finally, on the fifth day, to the women's surprise and relief, two men on horseback appeared on a hill. They were cattle ranchers checking on their herd. Laughing, Diaz says, "Cowboys saved our lives." A Tuolumne County rescue crew was called to the scene and a helicopter flew the women to safety.  Deputy Rob Lyons, the county's search and rescue coordinator says, "Recently, we've had about one (rescue call) a week. We run about 45 calls a year." He recommends plan ahead. Tell others your plans, including the dates you will be gone and where you are going. Lyons advises always carry a daypack with items like a map, a compass, warm clothing, water, protein bars, and any medications. Other useful survival tools include a water purifying kit and a personal locator beacon.
Looking back Diaz admits, "I realize we were foolish and we made some huge mistakes that could have cost us our lives."