Second Umpqua Robbery Suspect In Custody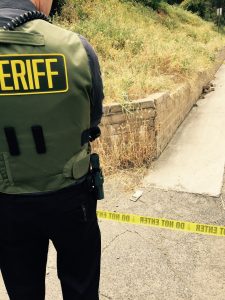 Money On Ground Outside Twain Harte Umpqua Bank

View Photos
Twain Harte, CA — A 16-year-old, wanted in connection to the robbery at the Twain Harte Umpqua Bank, has turned himself into authorities.
The Tuolumne County Sheriff's Office reports that the teen was interviewed by detectives yesterday after turning himself into the Tuolumne County Probation Department. At the completion of the interview the suspect was taken to an out of county juvenile detention facility. The teen, who is not being identified by the Sheriff's Office due to his age, will be held in custody pending his initial court date. No other information about the teen, including where he resides, is being released by authorities. The second robbery suspect, 18-year-old Daevon Marquell Harris, was arrested on August 6th in Solano County.
The robbery occurred back on July 21st. The two suspects got away with an undisclosed amount of money.
Update Jan 20, 2016: Harris was found guilty and sentenced to six years in prison/ Judge Donald Segerstrom gave him credit for 138 days already served, ordered $1,800 in restitution and $7,437 be paid to Umpqua Bank in Twain Harte.
The younger defendant was tried as an adult, sentenced to three years in state prison, and ordered to pay $900 in restitution and $7,437 to Umpqua Bank in Twain Harte.