Farm Water Shortage Impacts Loom As Drought Continues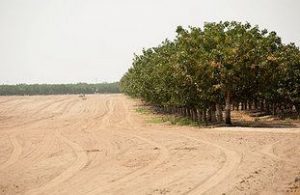 Fallowed Orchard in Merced

View Photos
Davis, CA — Research experts who follow drought impacts on state agriculture say that farmers and ranchers will fallow more than a half-million acres this year due to insufficient water supplies — more than 20 percent than their previous estimates.
The latest findings were released yesterday as part of the UC Davis Center for Watershed Sciences' new drought impact report. According to researchers, this year, the drought caused about a 30 percent reduction in cropland and workforce labor from last year. It is forecasted that California's agricultural economy will lose about $1.84 billion and over 10,000 seasonal jobs from an estimated total of 400,000 jobs with major impacts expected in the Central Valley.
Under the present drought conditions, "We're getting by remarkably well this year — much better than many had predicted — but it's not a free lunch," according to lead author Richard Howitt, a UC Davis professor emeritus of agricultural and resource economics. While the state, heralded as the world's richest food-producing region, has enjoyed continued strong global demand and prices for its many farm products, an increasing reliance on tapping the state's "vast but declining" groundwater reserves to nurture them is not only financially expensive, it comes with an increasing costs to the environment.
Already, in areas where groundwater pumping greatly exceeds the recharging of aquifers, noticeable sinking of land in some areas is being reported. There are also related water quality issues, not to mention diminishing groundwater supplies make reserves for future droughts more scarce. Currently, groundwater reserves are offsetting more than two-thirds of this year's farm water shortage.