Walker Fire Is 10% Contained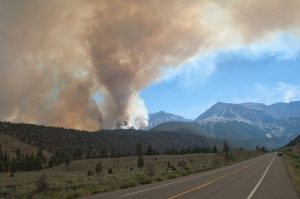 Walker Fire Viewed From Highway 120

View Photos
Mono County, CA — The Walker Fire in Mono County has grown to 2,200 acres and it is 10% contained.
It is burning west of the community of Lee Vining and has resulted in the temporary closure of a stretch of Tioga Pass, near Highway 395, just outside of Yosemite National Park. The fire is burning in mixed conifer, mahogany and brush. A critical sage grouse habitat is also threatened. Around 350 firefighters are assigned to the incident.
The Lee Vining community has become a center for fire operations, so visitors are asked to avoid the area. That area is under an evacuation advisory. Several nearby campgrounds are closed. A Type 3 Sierra Front team took over operations yesterday. Additional resources will be arriving throughout the day.
A special thanks to community news partner Joe Hall for sending in the photos. Pictures can be e-mailed to news@clarkebroadcasting.com.