Mariposa County Sheriff Issues Bear Warning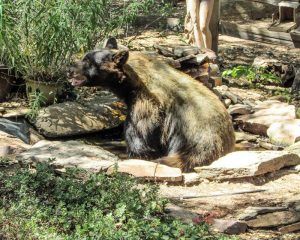 Bear On Gibbs Drive

View Photos
Midpines, CA — The Mariposa County Sheriff's Office reports that a man in the Midpines area was attacked by a bear early this morning.
The Sheriff's Office is releasing limited information about the circumstances, only to say that it occurred at the man's home at 4am in the 5000 block of Colorado Road. Due to the significant attack, the Sheriff's Office is warning residents in that area to be aware of surroundings and keep an eye on children and pets. California Department of Fish and Wildlife Wardens are actively searching for the bear. Should you see a bear in that area, you should not approach it, but call 911 immediately.
Staying on the topic of bears, there have been some sightings in populated areas of Tuolumne County this summer. Community News Partner Jack Cassinetto submitted the photos (in the upper left hand box) taken earlier this week in the area of Gibbs Drive in Sonora.
Pictures can be sent to news@clarkebroadcasting.com.