Large Wildfires Throughout California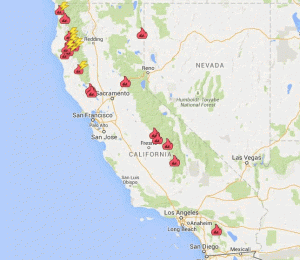 CAL Fire Map

View Photos
There are 12,000 firefighters battling 14 active wildfires in California.
Much attention is on the Jerusalem Fire that has burned 23,500 acres in Lake and Napa Counties. It is 33% contained and several evacuations are in effect.
On the eastern slope of the Sierra Nevada, a wildfire has burned 125 acres in the Humboldt-Toiyabe National Forest. Some roads and nearby campgrounds in Mono County, west of Bridgeport, are closed. Air and ground resources are on scene. Gusty winds have been reported in the area, and the cause is under investigation.
A couple of large fires are burning in the Shasta Trinity National Forest. The River Complex Fire is 28,592 acres and 12% contained. The South Complex Fire is 16,348 acres and 18% contained. Drift smoke from various fires is reported in the region. The CAL Fire map shows how widespread the fires are across the state. Many in the Humboldt County area were caused by lightning strikes.