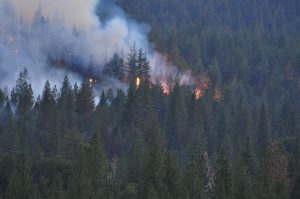 Western Edge Of Big Creek Fire

View Photos
Groveland, CA — CAL Fire spokesperson Lisa Williams reports the increased size estimate is not due to growth today, but better mapping.
The fire is 265 acres and 5% contained. Williams says, "Our crews are working on strengthening containment lines, and as the afternoon progresses, the fire danger with the heat could increase fire potential. So spot fires could potentially be an issue."
The previously mentioned voluntary evacuation notices will remain in effect for homes along Hell's Hollow Drive, Bucktail Drive, Elmore Drive and Sprague Road East. Those roads, situated off Highway 120, remain closed, so you should avoid the area. Highway 120 is open.
A special thanks to our community news partners Josh Ruhl, Connie Cassinetto, Willow Polson, Craig Polson, Caroline Nelson, Hannah Deden, Michael Bartlett, Doug Fleming, Ian Morcott, Bruce Lodge, David Hartwig, Judy Krause-Hankinson, Shari Pingree, William Cook, Nathan Grinsell, Dick Davis, Sally Van Bolt and Tamara Hansen for sending in the photos. Pictures can be e-mailed to news@clarkebroadcasting.com.