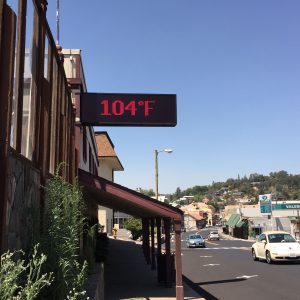 Sonora Triple Digit Heat

View Photos
Sonora, CA – During this recent heatwave, the American Red Cross is offering tips to tackle the triple-digit heat; and one food source to avoid.
"Stay away from types of food that are high in protein, as they can increase metabolic heat," warns Lilly Wyatt, American Red Cross Gold Country spokesperson.  "They [proteins] don't really break down the nutrients and that can actually make you hotter."
Below is what the American Red Cross recommends to beat the heat:
Dress for the heat. Wear lightweight, light-colored clothing
Drink water. Carry water or juice, carry it with you, and drink continuously even if you do not feel thirsty. Avoid alcohol and caffeine, which dehydrate the body.
Eat small meals and eat more often. Avoid foods that are high in protein which increase metabolic heat.
Avoid using salt tablets unless directed to do so by a physician.
Avoid strenuous activity.
Stay indoors when possible.
Take regular breaks when engaged in physical activity on warm days.