Finding Compromise In Forest Through New Research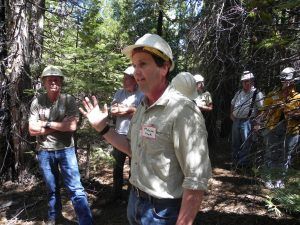 Forest Ecologist Malcolm North

View Photos
Pinecrest, CA — A U.S. Forest Service study is looking to the past in order to find solutions for the future.
Earlier today the non-profit Yosemite Stanislaus Solutions group hosted a tour of the USDA's Stanislaus Tuolumne Experimental Forest research project.
Situated outside of Pinecrest, the project has been underway since around 2009, and is led by U.S. Forest Service Research Ecologists Eric Knapp and Malcolm North. Using a variety of techniques, their goal has been to return a small section the forest to the state it was prior to the 1930's, before stepped up fire suppression efforts.
It was noted that 100 years ago fires would typically pass through every six years and provided a notable ecological benefit. The move to actively suppress fires created forest land that went untouched for longer periods and became more dense, and ripe for more larger catastrophic fires.
Mechanical thinning was conducted at the site in 2011, and it was followed up with some prescribed burning in 2013.
Speaking about the project, North says, "Particularly in the context of the Rim Fire, this is a much more resilient system to wildfire. The other big thing we have coming on the horizon is drought. Forests that have been reduced in density like this, which you particularly have openings where the tree roots can move into, and get soil moisture out of, is going to make these systems much more resilient to these types of long-term drought events, that may be more common in the future."
In striving to create a more diverse ecosystem like was present prior to active fire suppression, the researchers were selective about which trees were removed by mechanical thinning.
North notes, "Some of the trees that are larger in diameter, we know that they would not have been here if we had fire in the system, or at least not in those densities. Particularly we are talking about species that can regenerate under shade but are very sensitive to fire, such as White Fire and Incensed Cedar. Many times some of these trees are 20 inches in diameter or larger. So there's a perfectly good rational for thinning those trees and getting the economic return."
Research Ecologist Knapp adds, "We are also looking at the response of small mammals, birds, understory vegetation, and the whole ecosystem. We are trying to find a way of thinning that not only reduces the fuel situation, but also enhances the habitat for the wildlife and other species that we manage."
There were members of several government agencies on the tour today, in addition to members of the Forest Service. Field representatives were in attendance from Congressmen Tom Mclintock and Jeff Denhan and Senator Diane Feinstein. Also on hand were Tuolumne County Supervisors John Gray and Randy Hanvelt, and Calaveras County Supervisor Cliff Edson.
The Yosemite Stanislaus Solutions group is co-chaired by Mike Albrecht of Sierra Resource Management and John Buckley of the Central Sierra Environmental Resource Center. Both touted how this USDA project is something that competing interests can get behind, and the group hopes the research will help spur a new way of thinking about managing the forest. It is something that could be beneficial to both the ecosystem and taxpayers. While it takes some initial seed money to get these types of projects off the ground, they are eventually offset by revenue from timber sales.