Jamestown's Major Event: Rods To Rails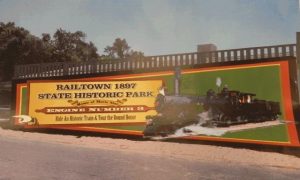 Jamestown Proposed Mural

View Photos
Rods to Rails will take over downtown Jamestown and Railtown 1897 State Park on Saturday from early in the morning through 3 pm.
Jim O'Neil, Board of Director with the Promotions Club of Jamestown, was Friday's KVML "Newsmaker of the Day".
This is the fourth year of Rods to Rails. Main Street will be closed to vehicle traffic from nearly one end of town to the other. Main Street will be lined with custom and classic cars and motorcycles, dating from 1972 and older. Vintage and Signature cars will be found at Railtown State Park. A 1915 Ford truck will be parked directly next to a 2015 Ford truck for the "100 years later" comparison.
It is free for the public to attend this downtown event. There is a registration fee to enter a classic car.
Elvis Presley will make an appearance. Additionally, there will be plenty of live music in various parts of the downtown area and at Railtown 1897. There will also be carriage rides between Main Street and Railtown and a free shuttle from the Chicken Ranch Casino.
There will be raffle drawings, food, numerous vendors, train rides and many downtown businesses will offer a variety of specials. The Kiwanis club will serve BBQ food at Railtown 1897.
The Promotions Club is a non-profit organization that exists purely to promote Jamestown.
The informal club brings activities to town throughout the year. Money is raised for the club during specific events through a combination of t-shirt sales, food purchases and raffle drawings.
For more information regarding Rods to Rails and/or the Promotions Club of Jamestown, call 984-0888.
The "Newsmaker of the Day" is heard each weekday morning on AM 1450 KVML at 6:45, 7:45 and 8:45am.