Fire Contained In Tuolumne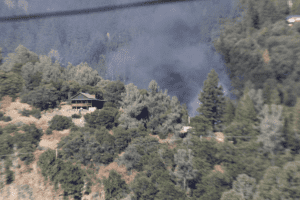 Fire Near Tuolumne Road and Knox Drive

View Photos
Tuolumne, CA — Firefighters have contained a one acre fire this evening near the area of Tuolumne Road and Knox Road. Air resources from Columbia were initially dispatched, but they have now been released back to base. As you can see in the photo, the fire was near some homes, but no structures were damaged. Five engines are currently on scene, and officials will remain in the area throughout the evening mopping up.
The initial call to firefighters indicated that it originated from a vehicle. officials say the cause is under investigation.
A special thanks to community news partner Charity Maness for sending the photo. Pictures can be e-mailed to news@clarkebroadcasting.com.