Update: Stanislaus Firefighters Hurt In Crash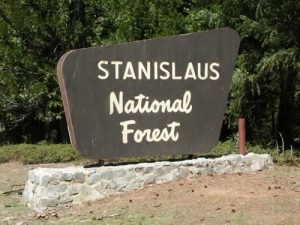 Stanislaus National Forest

View Photos
Update on July 12 at 6am: The CHP reports that 53-year-old Maria Constable of Fresno was attempting to pass the fire engine in her Kia SUV, but collided with the side door. Both vehicles had been traveling east on Highway 168. The sideswipe caused the fire truck to drive off the road and overturn four times before ending up on its side. Constable's SUV rolled over twice and landed on its rooftop. The crash is under investigation.
Original story posted on July 11 at 8pm: Clovis, CA — Five firefighters from the Stanislaus National Forest were injured in a rollover vehicle accident in Clovis.
It happened earlier today on Highway 168 when the firefighters were traveling to an assignment in the Sierra National Forest. The engine carrying the five firefighters was involved in a crash with a private citizen who was driving an SUV. The CHP is investigating.
The five firefighters on board were all injured, to some degree, and all are now in stable condition. Firefighter Derek Soden sustained the most serious injuries and was flown to Community Regional Hospital in Fresno. Firefighter Ben Jongeward had moderate injuries and was taken to the same hospital. Meanwhile, firefighters Lee Sands, Brittany Dowden and Ryan Baker were treated and released from Saint Agnes Hospital. Sands, however, was later readmitted for followup tests. The private citizen in the SUV, who has not been identified, sustained minor injuries.