Pushing For Wildfire 'No-Drone Zones'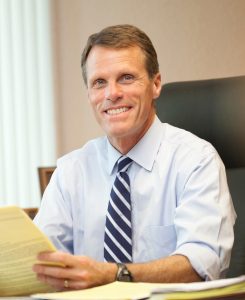 State Senator Ted Gaines

View Photos
Sacramento, CA — For safety's sake, a former Mother Lode lawmaker is stepping up to quickly squelch the use of private drones over wildfire areas.
Republican State Senator Ted Gaines (El Dorado), who, prior to redistricting, represented Calaveras County, says next week he will be co-introducing SB 167 with Democratic Assemblymember  Mike Gatto. The bill specifically seeks to outlaw drones that interfere with wildfire response.
The move, Gaines explains, comes from a growing number of reports over irresponsible use of private drones over wildfires; some of which have critically interfered with reconnaissance or tanker aircraft operations. With the upsurge of large wildfires, Gaines points out, such as the Weed Fire in his district that quickly burned down more than half the homes, anything inhibiting the load-dropping ability of an aircraft to suppress a fire could make the difference between life and death.
"I'm just fearful for the lives of firefighters, who are attacking forest fires…trying to suppress them and put them out quickly," Gaines states. "We don't want amateurs with drones interfering with the ability to put a fire out. You're putting people's lives at risk — and if it's a neighborhood that's adjacent to open space, you could be putting individual homeowners' lives at risk."
Increase Fines, Include Incarceration
The bill, according to Gaines, seeks to dramatically increase the fine for those found guilty of operating drones over wildfire areas and include incarceration as an option. By working on a bipartisan basis in tandem with Gatto, Gaines hopes the bill might be expedited through both houses. "We're going to try to push this through as fast as we can," he shares. "I've talked to members on both sides of the aisle who are supportive and the hope would be to move it quickly through the Senate and the Assembly and get it to the Governor's Office for signature."
Stressing the timeliness of the bill, Gaines articulates, "We want to highlight this [legislation] and want people to be aware, as much from an education standpoint, that it's stupid to fly a private drone in the middle of a forest fire. We want to make sure that our forest firefighters are using technology, which could include drones, but we want those to be authorized drones that are actually helping to fight the fire."
Right now, the Federal Aviation Administration (FAA) generally issues temporary flight restrictions over disaster and hazard areas but there is no state penalty for violations of the restrictions. While, under current state law, it is a misdemeanor to interfere with the lawful efforts of a firefighter or company to extinguish a fire, convictions carry only a $1,000 penalty fine maximum.
While Gaines hopes the bill will move quickly forward, if it is additionally able to get an emergency clause attached, he allows the possibility for it to be fast-tracked through both houses to the Governor's desk within 30 days.