County Identifying Projects For Rim Fire Grant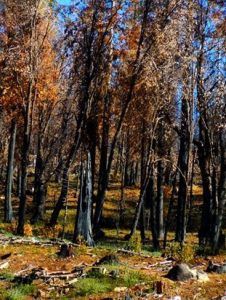 Rim Fire Recovery

View Photos
Sonora, CA — Tuolumne County leaders are identifying projects, post Rim Fire, to include in the federal National Disaster Resiliency Competition.
The Rim Fire was picked to move on to round two of the grant process, being overseen by HUD, so potential projects need to be finalized and submitted.   The federal program will allocate a combined $1-billion toward a variety of projects that benefit communities, nationwide, impacted by disasters.
The projects are designed to prevent against future disasters, and also help the community rebound. This morning the Supervisors voted 5-0 to allow staff to spend up to $100,000 to hire consultants to help with high level refinements and create better cost estimates.
There's no guarantee that any of the projects will receive money, but the county is optimistic that at least some will be funded, as the Rim Fire is the only application from the State of California. The County has put together a rough draft of the potential project list. It is transcribed below in its entirety:
County Projects
1. Construct New Jamestown Ambulance/Fire Station
2. County Fire Vehicles
a. Water tenders (3)
b. Type III Fire Engines (7)
c. Ladder Truck (1)
d. Mobile Command Post – to be shared with other agencies
3. Ambulance Vehicles (7)
4. Microwave Radio Project for all 1st Responders
5. Radio Project for all First Responders
6. Additional Parking at Striker Court EOC/Training Center
7. Construct New Sheriffs Administrative Center on L&J Campus
8. Construction of Phase 1 of Gardella Ranch Road to serve L&J Campus
9. Improvements to Groveland Community Hall (e.g. audio/visual system, HVAC, generator, etc … )
10. Animal Control Office and Shelter Generator
11. Road Department Equipment
a. Boom Truck
b. Sweeper
c. Vac Truck
d. Masticator
12. Public Works Projects
a. Rehabilitation, widening and drainage improvements of numerous County roadways
b. Ingress/Egress improvements to numerous high risk subdivisions
c. Tuolumne storm drainage improvements
d. Tuolumne bicycle/pedestrian trail
e. Construction of shaded fuel breaks (fire hazard reductions) along various roadways
County Partnership Projects
1. Regional Dispatch Center on L&J Campus with Multi-Agency EOC and adequate parking (USFS/CalFire/County/City of Sonora)
2. Tuolumne Township Emergency Shelter/Community Center (County/TPRD)
a. Multi-purpose community center space (can serve as shelter and event center)
i. RV parking and hook-ups
ii. Small animal shelter space
3. Tuolumne Memorial Hall Universally Accessible Playground (County/Non-Profit)
4. Groveland Emergency Shelter/Community Center – The Gathering Place Project (County/Southside Senior Services)
a. Multi-purpose community center space (can serve as shelter and event center)
i. RV parking and hook-ups
ii. Small animal shelter space
b. Health and wellness center space (exercise/therapy center)
c. Community health center space (healthcare center)
5. Sierra Regional Healthcare Training Center at TGMF Campus (County/TCEDAlHealthLitNow)
6. Expansion of Jamestown Food Bank Facility – Emergency Response & Donations (County/ATCAA)
Community Projects
1. Business Incubator Project (TCEDA)
a. Grow existing and attract new businesses
b. Three business incubation buildings in Pluim Industrial Park
c. Move and expand InnovationLab
2. Broadband Infrastructure Project (TCEDA)
a. Construct fiber loop through primary business area ofthe County (East Sonora)
b. Extend fiber to Curtis Creek School
c. Partial build-out of fiber to Tuolumne Township
3. Broadband Infrastructure Project (ATCAA)
4. Expand Fire Science Program (Columbia College/Supt. of Schools)
a. Regional Fire Training Center – new facilities and-equipment
i. Enhanced hands on training opportunities
ii. New internship opportunities
b. Enhanced outreach to and recruitment within local schools
5. Development of Forest Natural Resource Program (Columbia College/Supt. of Schools)
a. Ability to bid on and compete for forestry contracts in USFS and other lands including capacity to mill and market wood products
b. Conduct inventories, timber harvests, fuels treatment, stand enhancements, defensible space projects and research
c. Development of a Campus Demonstration Forest (teaching lab)
6. Restoration and Recovery Projects (USFS)
a. Bio-mass removal
b. Reforestation
c. Water, aquatics and wildlife
d. Roadway improvements
e. Vegetation management
f. Range projects
g. Trail, recreation and heritage projects
h. Education and Interpretation
7. Fuel Break Projects (CalFire)
8. Demonstration Tree Planting Project (Cal Poly/Non-Profit)
9. Water, Waster Water, & Various Complimentary Resiliency Projects (TUD)
a. Watershed management
b. Main canal, ditch and flumes
c. Fuels reduction
d. Reservoir storage
e. Water treatment and storage
f. Water distribution systems
g. Transportation and communication systems
h. Portable facilities – power, pumping, treatment and transport
10. Groveland Training Campus & Facility (CCC/GCSD)
11. Fairground Improvements (Mother Lode Fair)