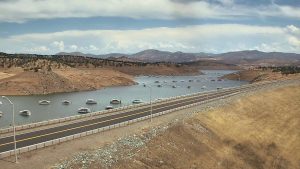 Lake Don Pedro, web cam image, July 7,-2015

View Photos
Sonora, CA — The victim of an accidental death at Lake Don Pedro has been identified and details have surfaced regarding a drowning incident at a popular swimming hole.
According to Tuolumne County Sheriff's Department spokesperson Sgt. Scott Johnson, this past Saturday, July 4, 26-year-old Bahri Varoon, 0f Fullerton, California was reported missing in Lake Don Pedro after swimming away from a boat where he had been vacationing with friends.
Johnson reports, "A search was conducted, a body was located on July 5th by the Tuolumne County Sheriff's Office Boat Patrol Unit. On July 6th an autopsy was done on that body and a positive identification was made…the cause of death was asphxia/drowning. There were no drugs or alcohol involved, and at this time, the Coroners Division has concluded its investigation and deemed the death as accidental."
He adds, "It's just one of those tragic things. We don't know exactly why he went under, if he cramped up, or what. No real answers, you know — other than he drowned. He didn't have any underlying medical condition, it wasn't drugs or alcohol."
On a different incident Forest Service officials say that multiple agencies responded following a missing person report Sunday, July 5 at Rainbow Pool, a popular swimming area located off Highway 120 in the Groveland Ranger District. The incident involved a three-year-old male from Antioch, who had reportedly been standing on a rock and somehow slipped into the water.
According to Forest Service spokesperson Georgia Dempsey, forest personnel, along with CAL Fire and the Tuolumne County Sheriff's Department personnel were on the scene to assist. After CPR was administered at the scene, the child was initially transported to Sonora Regional Medical Center and later flown, via Life Flight, to UC Davis Medical Center; his condition unknown.
"We've had people drown in Rainbow Pool before. We've had fatalities happen," Dempsey notes somberly. "There's a cliff there that overhangs the water so a lot of kids go up there to jump. We've even had people become paralyzed from jumping incorrectly. So, though it is a wonderful place to visit, you do need to use that caution — and especially right now while that pool is really busy and crowded."
Included in those precautions, she notes, "If you have small children, make sure they have flotation devices on." Too, she adds firmly, "Make sure that you monitor kids at all times — and just remember — that this is a wild place and there are some inherent dangers. You can lessen those dangers for yourself and your family by recreating responsibly."