Strawberry Fires Up Half-Million Dollar Engine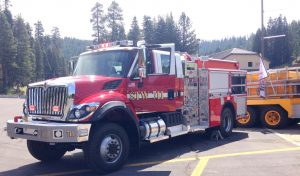 New Strawberry Fire Engine

View Photos
Strawberry, CA — The Strawberry Fire Protection District, now back open for business through a new partnership, additionally owns boasting rights for having "the best piece of fire equipment on the hill," according to its board president.
Last Thursday, the fire district took delivery of a brand-new half-million dollar custom Type-1 engine that has been under development for well over a year at Oakdale-based Hi-Tech Fire Apparatus. The federal grant funding for it has been in the works nearly twice the time, recalls board president Lee Dempsey. He credits County Administrator Craig Pedro and Auditor-Controller Debi Bautista, among others, for instrumental efforts through which the fire district reorganized and, as of July 1, is now an official partner, working with Tuolumne County and Pinecrest fire departments as "a united group." Dempsey calls the overall effort "a community accomplishment."
Under the fire district's new organization, according to Dempsey, Twain Harte Fire Chief Todd McNeal will add interim fire chief duties for the Strawberry fire district, augmented by Pinecrest Fire Department Lt. Chris Bandley and Lt. Brian Bosque and three to four other crew members.
As for the new engine, states Dempsey, "Both FEMA and Homeland Security [the two funding agencies] agreed with us that we needed it. The engine that we had — we're trying to guess…[is from] around the 1950s or '60s." He adds, "No seatbelts, it was a ten-wheel drive…looked like the Dirty Dozen mobile…past its prime and it really couldn't do its job, and so we really had no structure engine."
Dempsey points out the obvious benefit of having local fireman Calin Smith, also a civil engineer, available to serve as project manager through some 50-plus pages of specifications. The resulting, multi-function wildland and structure fire engine is built to handle steep mountain roads and is additionally equipped to carry foam and an extra 750 gallons of water on board. The district, which also operates a small quad squad Type-4 unit, expects to finish outfitting the new engine and qualifying personnel on its operation within the next week or so.
"We should be able to answer calls in the next week or week and a half," Dempsey estimates. In the meantime, "We've been going all around, tooting the horn and showing it to everybody," he says, with a laugh. As for the fire district's much-outdated "Old Yellow" engine, under requirements per the funding agencies, it has to go, Dempsey shrugs. "We're going have to salvage her off — we'd love to find a home, somebody who wants to use it for a parade or museum," he shares.