Drought Progression Dire For Don Pedro, Others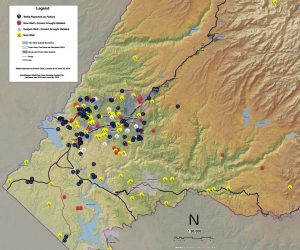 Tuolumne County OES Drought Progression Well Failure Map, June 16, 2015

View Photos
Sonora, CA — Latest estimates say the Lake Don Pedro Community Services District (DPCSD) is down to a 60-day water supply.
At today's Tuolumne County Board of Supervisors Meeting, unsurprisingly, the board again voted unanimously to extend its emergency drought state of emergency, which it is required to review every 30 days. Ahead of the vote, county Office of Emergency Services (OES) Coordinator Tracie Riggs reported that DPCSD water supplies have reached a critical state, with the district's ability to tap Lake McClure diminishing as the reservoir's water levels continue to sink. As a minimum pool level of 115,000 acre-feet must be maintained, she indicates it is estimated that by late August DPCSD will no longer be able to pull water from its primary source.
"It's pretty serious when we have a water system that has less than 60 days of water," Riggs said somberly. "We have not been able to get the funding that we feel we need to get through the different state agencies, and so, what I've done is kick that up, like you're seen me do in the past, to CalOES, where they work at the state level with the state department heads to get what they need to get done." Board Chair Supervisor John Gray asked Riggs to let the board know how it might help spur action, such as be providing expedient letters of support.
In other drought-related news, Riggs reports that, to date, 240 homes have been affected and that there have been 162 well failures and four spring failures. She notes that through the creation of a progression map (see upper left image box to view map graphic or click here for high-resolution .pdf image), stakeholders will be able to see where failures are taking place.
Among other concerns that Riggs shared are that some of the smaller water districts are not regularly attending Drought Task Force meetings, so the county is not able to maintain current information on how their supplies are holding out. Another worry, local businesses on wells and springs, like the Peppery Bar & Grill and Gus's Steak House, both in Sonora, are not covered by current emergency drought relief funding programs, should their water sources fail. To hopefully cover that end, Riggs indicated that her office has feelers extending out to the USDA, Small Business Administration and other agencies to see how businesses affected by water issues might get relief.