State's Greenhouse Emissions Plan A Model?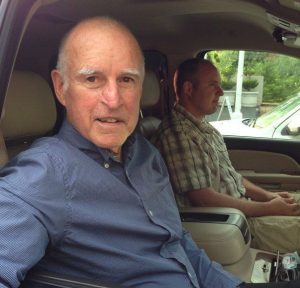 Governor Brown at the Mother Lode Fair: Photo taken by: Tracey Petersen

View Photos
Los Angeles, CA — Today, Gov. Jerry Brown stated he wants the state's greenhouse gas emissions reduction plan to be a model for global leaders to craft a universal agreement.
Ahead of the UN's Climate Change Conference, scheduled this November in Paris, Brown met earlier today in Los Angeles with the United Nations' top climate change official, Christiana Figueres. It is the latest in a series of the Governor's collaborative meetings among "subnational" states and provinces to encourage swift, decisive actions to combat climate change, ahead of an international summit this fall. According to an Associated Press story, Brown told reporters after the meeting that the state's vast resources allow it to negotiate with other states as well as foreign governments like Mexico and China.
Along with those two countries, California currently has international climate change pacts between the state and leaders from North America, Japan, Israel and Peru. Last month, Brown convened international leaders from 11 other states and provinces to sign a first-ever agreement to limit the increase in global average temperature to below 2 degrees Celsius, a threshold scientists say relate to likely catastrophic climate disruptions.
Under an executive order issued earlier this year, the Governor set the continent's highest benchmark for reducing greenhouse gas emissions, by requiring 40 percent below 1990 levels by 2030. In related pending legislation, Brown aims to set a requirement that half the state's electricity come from renewable sources by 2050.
The international conference, which is scheduled for November 30 through December 11, expects participation from 195 countries. The goal is to attain, for the first time, a universal, legally binding global agreement on combating climate change and working towards the creation of low-carbon societies and economies.