State Regulation Of Marijuana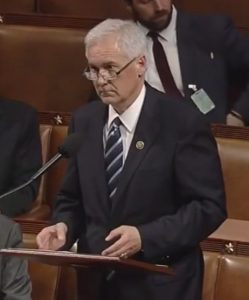 Congressman Tom McClintock
Washington D.C. –By a vote of 206 – 222 an amendment to allow states to regulate the sale of marijuana was proposed by Congressman McClintock but did not pass.
The legislation, H.R. 2578, is for finance year 2016 also called the Commerce, Justice, Science Appropriations Act. Congressman's McClintock's House floor remarks introducing the amendment are featured in his newest blog here.
McClintock says "This amendment addresses a larger question: whether the Federal government has the constitutional authority to dictate a policy to states on matters that occur strictly within their own borders."
McClintock cited legalization efforts Colorado and Oregon saying, "They believe that the harm that might be done by easier access to this drug is outweighed by the benefits of removing the violent underground economy that prohibition has caused."
More details on McClintock's amendment are in his the video and transcribed in his blog, "State Regulation Of Marijuana"
Update: Three laws passed on October 9th 2015 to regulate medical marijuana, details are here.