Despite Drought, Yosemite Delivers 'Water Show'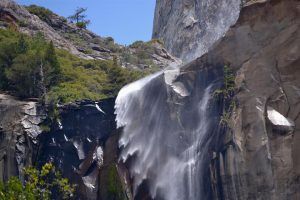 Yosemite Bridalveil Falls, June 6, 2015

View Photos
Yosemite, CA — This past weekend at Yosemite National Park, clouds brought cooler temperatures and about a half-inch of rain to further fuel the still flowing waterfalls.
"Every little bit counts," says Yosemite spokesperson Kari Cobb. "In addition, we are actually expecting a little bit of rain about midweek, this week…one of the things that I've been a little bit surprised about with this weather is that the waterfalls are… lasting a little bit longer than we had anticipated."
Most of the falls, Cobb points out, are strictly fed by snowmelt. "So, when we don't receive a lot of snow over the winter, those falls tend to dry up rather quickly throughout the summer. But when we see late season rainfall, like the one we had last weekend — and like the one we are expecting midweek — it actually keeps the falls going just a little bit longer," she states. "So those who are coming in the summer and are wishing to see water may get their wish, if we continue to have weather like this."
While it is difficult to predict when the waterfalls are going to go dry, according to Cobb,  Yosemite Falls' "water show" usually lasts until mid-August. This year, park officials were originally anticipating it would be dry by June but as the park continues to experience episodes of precipitation, the show will go on. If no more rains come, Cobb indicates her best guesstimate: "I'd bet the waterfalls would be fairly small if not completely dry by July. Hopefully, we continue to get that precipitation, and hopefully the waterfalls just keep flowing a little bit longer!"
The waterfalls are always a popular tourist draw to the park.