Court Rules In Favor Of Rim Fire Logging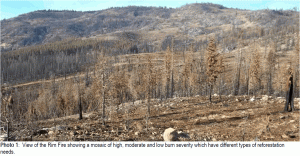 Rim Fire Burn Area

View Photos
Sonora, CA — Yesterday, the U.S. Court of Appeals nixed an argument by a group of nonlocal environmentalists that Rim Fire recovery logging threatens spotted owl habitat, effectively removing a potential log-jam to current clean-up efforts.
According to Stanislaus National Forest spokesperson Rebecca Garcia, "The Ninth Circuit Court ruled in favor of the US Forest Service on the Rim Fire case, and so the U.S. Forest Service, the Stanislaus National Forest will continue forward on the Rim Fire recovery efforts." She adds, as far as the work being done, "Nothing had never stopped. The litigants had appealed to the courts back in August to get a stay to try to halt the work…out on the landscape…while they were putting together their case. But that was not granted and work has continued…until weather did not allow it…and it started up again this spring…and will continue as long as the wood is good."
Garcia states that 134 million board-feet in timber and 22,000 tons of bio-mass sales has been awarded. So far, "Approximately 194 million board-feet have been hauled, and that number reflects the add-ons and bio-mass; there's still 70 million [board-feet] remaining on the forest [landscape]."
Salvage logging will be completed on only 20% of the Rim Fire footprint, as part of the plan finalized last year.
The court's decision, which was filed in San Francisco Tuesday, leaves the plaintiffs, the Center for Biological Diversity, Earth Island Institute and California Chaparral Institute a final option: to see if the Supreme Court will hear their case. That route is both uncertain and likely to take more months than the planned scope of recovery efforts. The Ninth Circuit judges indicated in their decision that the plaintiffs had not established a likelihood of success on the merits of their claims under the National Environmental Policy Act. Additionally, the judges indicated that the Forest Service had re-established six protected activity centers where surveys detected owl presence; and accurately addressed the scientific literature on owl occupancy in post-fire, high-severity burn habitat.
With regard to the case, among the Forest Service's allies and stakeholders from the 2013 Stanislaus National Forest Rim Fire are the Tuolumne County government; American Forest Resource Council, Sierra Pacific Industries and Stanislaus Solutions.