Thief Tries To Haul Off A Restaurant Decoration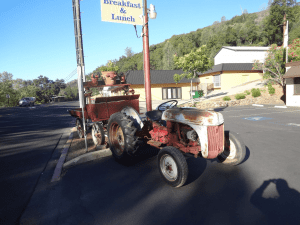 Tractor and antique wagon

View Photos
Sonora, CA – Sonora Police report a man posing as a Caltrans worker attempted to highjack a horse drawn wagon parked in front of a Sonora restaurant on Sunday around 6:25 a.m.
A passerby alerted police to the theft after he spotted 35-year-old Daniel Parsons of San Lorenzo in the parking lot of the Foothills Café at 636 Stockton Road. Parsons, wearing a Caltrans' neon safety vest, was hooking up the wagon to a tractor displayed in front of the café.
Once on the scene, officers questioned Parsons who alleged he had permission from the café owners to take the wagon and showed them a hand written invoice as proof.  When officer contacted the owners, they denied Parsons' claim saying they were actually in an ongoing dispute with him. Chief Mark Stinson says Parsons had recently opened a motorcycle repair shop nearby. Stinson explains, "The dispute…was over him [Parsons] and friends driving recklessly in the parking lot of the café…doing wheelies, burning off tires, stuff like that."  The owners told officers the wagon is valued at between $1,000 and $2,000.
Officer arrested Parsons without incident. He was booked into the Tuolumne County Jail for attempted grand theft. Police add that Parsons is not a Caltrans employee.