No GOP Presidential Candidates Lead In CA Poll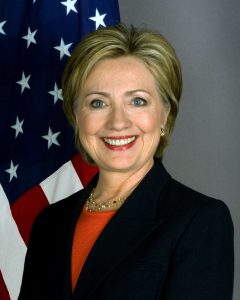 Hillary Clinton Official Secretary of State portrait

View Photos
San Francisco, CA — Former Secretary of State and former First Lady Hillary Clinton dominates over half of Democrats' choices as the Presidential nominee in California, but there is no clear leading Republican nominee.
A new Field Poll found that Clinton is currently preferred by 53% of the state's likely voters in the Democratic primary. The support for her is down from 59% in February; but her closest potential challenger, Massachusetts Senator Elizabeth Warren, is currently at 13%. The Field Poll results note that the number who are undecided tripled from 7% to 22%.
Undecided Republican voters also increased from 19% to 31%. Three Republicans have a slight lead in California, with higher levels of support among likely voters for former Florida Governor Jeb Bush (11%), Florida Senator Marco Rubio (11%), and Wisconsin Governor Scott Walker (10%).  Another 37% of likely voters in the Republican primary support other GOP potential candidates. Last February, support for Walker was 8 points higher and 5 points higher for Gov. Bush. Support for Senator Rubio has increased over the past three months from 7% to 11%.
Many Democratic voters are confident of their choice for Clinton to run for President. Among those currently backing her candidacy, 67% say they'd be enthusiastic were Clinton to win the nomination. Among Democratic primary voters currently backing other Democrats, 21% who are undecided say they would be enthusiastic about Clinton as their party's nominee; 10% say they would be dissatisfied or upset.