Camera Captures Deadly Yosemite Jump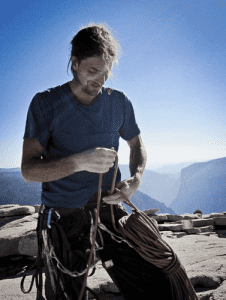 Dean Potter

View Photos
Yosemite, CA – One of the men involved in the illegal BASE jump that tragically took his and another man's life had a camera mounted to his helmet that recorded the accident.
The footage has not been released to the public, as park authorities are viewing it to try to determine what caused the man to slam into the rocks.
On Saturday, Dean Potter and Graham Hunt donned wingsuits and leaped from one of the park's cliffs. Park officials say they were apparently trying to glide through a notch in a ridgeline, but slammed into a rocky outcropping while attempting the dangerous move.
The helmet footage shows Hunt hit the ridge first, immediately followed by Potter, according to Yosemite officials, who report Potter followed, swooping left, possibly to avoid his partner, but he hit the rocks a split second later. The two died instantly.