TUD Addresses Two New Water Main Requests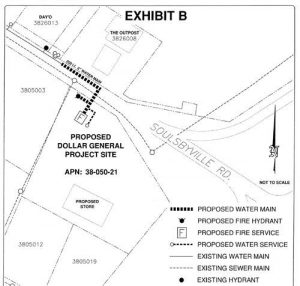 Dollar General Water Pipe Plan

View Photos
Sonora, CA — Despite concerns, the TUD board approved construction of water main extensions for a new Dollar General Store in Soulsbyville and an extension to serve Sonora High School.
The Soulsbyville Dollar General project recently broke ground for the utilities and the TUD board discussed the availability of water for the new project. The Tuolumne County Planning Commission approved the 9,100 sq. ft. Dollar General store in September 2014.
Board Chairman Ron Ringen noted the current Phase III water restrictions and said, "I think it is TUD's obligation to provide water when they have water to provide. But if you are asking your customers and rate payers; telling them not only do they need to cut back the 24-25 percent that the Governor and Water Board says — but they need to cut back 30 percent, because we have a problem here with our system — then, I can't see the rational of hooking up new hookups until we have new secure sources of water."
TUD Director Kent Johnson mentioned the Sonora City Planning approval of replacing a seven-plex in downtown Sonora. Johnson was in favor of continuing to review specific projects, as they come up, saying, "We have some responsibility to also see that the economic development of this area go forward — and that is why we are working on these other projects." TUD Director Ron Kopf confirmed that the board can deny new hookups but says "Whether it is fixing leaks in Sonora or fixing leaks in the ditch system, we are essentially making better use of the water…we are creating the supply necessary for this project. [New hookups] are paying us to do our job."
Four public comments were made about the water main extension to the new store. Two comments were in support of the new connection and two were against. The motion passed four to one with Ron Ringen against.
The Sonora High School extension passed unanimously with Jim Grinnell abstaining. There were no public comments made. The project was described at the meeting by General Manager Tom Scesa as essentially relocating current services and abandoning a sewer main along the woods' creek that is in disrepair. The approval provides a hookup for a not yet defined aquatic center. Scesa told the board the aquatic center hookup would only be used if the hookup to the current pool was turned off. The plans for the new connections at Sonora High School are here.