Rose Honored For Lifesaving Efforts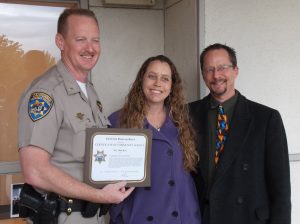 Lt. Scott Clamp, Molly Rose and husband Mathew Rose

View Photos
Sonora, CA — A Tuolumne County teacher was honored by the CHP at a special ceremony at Summerville High School.
Molly Rose, who happens to be the teacher of the Summerville Parent Nursery School, helped rescue a man involved in an accident near her home. CHP Spokesperson Nick Norton reports that during the evening of April 13th Rose heard a "tire squeal and then a thud."
She walked down a heavily wooded hillside, found a flashlight on the ground, and used it to look for occupants in the vehicle. She spotted a male victim face down in a creek bed, and rolled him over. The victim immediately started breathing, and Rose called out for the neighbors to dial 911. She then held the victim's head out of the water for approximately five minutes before the ambulance arrived on scene.
Officer Norton says Rose went "above and beyond" to help a member of the community and the CHP wanted to thank her for her exemplary actions.  She received a "Certificate of Community Service" early this morning, prior to school starting, from Sonora Area CHP Lt. Commander Scott Clamp.