Yosemite Making A Comeback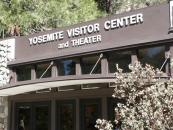 Yosemite Valley Visitor Center and Theater

View Photos
Yosemite, CA – A new national parks study showed Yosemite's numbers are up in terms of visitors, jobs and spending.
After 2013's disappointing numbers with a 30,400 drop in visitors from 2012, which was attributed to the Rim Fire, Government shutdown and lingering drought, 2014 figures show a jump of nearly 192,000 visitors to the park for a total of 3,882,642.  The study found those visitors spent over $405 million in communities near the park, supporting 6,261 jobs, which added 1,228 jobs.  The overall benefit to the local economy was over $535 million, according to the study.
"Yosemite National Park welcomes visitors from across the country and around the world," said Yosemite Superintendent Don Neubacher. "National park tourism is a significant driver in the national economy, returning $10 for every $1 invested in the National Park Service, and it's a big factor in our local economy as well.  We appreciate the partnership and support of our neighbors and are glad to be able to give back by helping to sustain local communities."
Nationally, the report showed $15.7 billion in spending by 292.8 million visitors in communities within 60 miles of a national park supporting 277,000 jobs, cumulatively benefiting the U.S. economy by $29.7 billion.
Here is the report's breakdown of visitor spending:
Lodging 30.6%
Food and beverage 20.3%
 Gas and oil 11.9%
Admissions and fees 10.2%
Souvenirs and other expenses 9.9%
Economists with the U.S. Geological Survey and National Park Service conducted the economic impact study of national parks across the country.  To view the entire report click here.