Update: Copper Theft In La Grange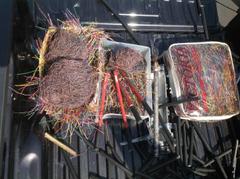 Cut telephone wires

View Photos
Update 6:30 p.m.:  Detectives arrested 26-year-old John Evans and 25-year-old Shalene Wise, both from Modesto, around 2 p.m. on Thursday for the theft. Investigators arrested Evans for possession of stolen property and burglary tools and Wise for criminal conspiracy.
As first reported by myMotherlode.com, the thieves cut a major section of an AT&T phone line sometime in the early morning hours Wednesday to get the copper wiring.  AT&T now estimates 1,000 feet of 50-strand communication wire stolen and nearly $65,000 in damage.
Additionally, a check by investigators of local recycling companies found that one near Beard Avenue in Modesto received more than 110 pounds of copper wire just after 5 p.m., Wednesday. On Thursday, around 10:45 a.m., detectives went to a Modesto residence on the 2400 block of Sunrise Avenue, and arrested Evans and Wise.
During a premises search, investigators found evidence connecting the suspects to the crime. (You can view the seized items in the upper left-hand image box.) There is still no official report on the number of customers affected by the tri-county telephone service outage.
Original story, posted 2:56 p.m.: La Grange, CA – Tuolumne, Mariposa and Stanislaus counties all were without 911 capabilities for an undetermined amount of time Wednesday due to a copper wire theft in La Grange.
Investigators report the thieves cut out a major section of an AT&T phone line sometime in the early morning hours Wednesday to get the copper wire inside. In the process, the vandals also severed a fiber optic line and damaged poles causing 911 centers in the three counties to go down. Stanislaus County Sheriff's spokesperson Deputy Anthony Bjaran says, "We're not sure exactly how long that gap was there. There was no land line service and some cellphones were affected and people were not able to make those emergency calls. Once we became aware of the issue, we immediately set up a contingency plan." That plan consisted of enabling a mobile command post outside of La Grange, where a temporary call center was manned by all three counties for emergency calls. AT&T restored service at 10:15 PM.
The Stanislaus County Sheriff's Office has not released the names of the two people arrested. Investigators add that copper wire is typically stolen to support drug addicts'  habits.  Bjaran says, "We do not know what the monetary cost is to fix the damage, the exact amount of wire that was stolen, or how many customers were affected by the loss of telephone service."
Detectives are asking for anyone with information on the theft to call Detective Cody Williams at 209-525-7057. You can leave an anonymous tip here.