Vote To Speed Up Water Studies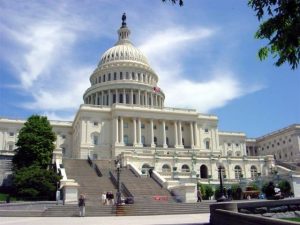 US Capitol

View Photos
Washington D.C., CA –After nearly two decades of government agencies' studies on five major water storage projects in California, legislation designed to speed up the process has passed a U.S. House panel.
The 26-page bill was authored by Republican congressional representative David Valadao of Hanford. Offered as an amendment to the FY 2016 Energy and Water Development Appropriations Bill, it would require the Bureau of Reclamation to finish and submit feasibility studies for three dam expansion projects and two dam building proposals. Each project would have hard deadlines with the final one being completed in 2017. Here is Valadao's list of the projects and completion timelines:
1) The Shasta expansion and Temperance Flat dam by December 31, 2015
2) The Los Vaqueros expansion and Sites dam by November 30, 2016
3) The San Luis dam expansion by December 31, 2017
Additionally, the bill would allow the projects to compete for nearly $2.7 billion in additional water storage funding that voters approved last November.
Rep. Valadao says, "Each of the five studies were authorized by Congress over a decade ago. If California had some of these dams or expansions in place, we wouldn't be in the disastrous situation we are in today." He adds, "In fact, these dams, if completed, could deliver as much as 79% of the mandated 1.5 million acre feet of water restrictions recently implemented by Governor Brown."
The House panel passed the bill on party lines. Critics argue the bill dismisses environmental issues and targets only certain areas of the state while leaving others high and dry. The full House is set to take up the bill next week. The bill's passage in the Senate is not expected and President Obama has vowed to veto it.