Rocca Park Gazebo Dedication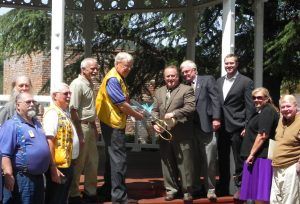 Ribbon Cutting at Rocca Park

View Photos
Jamestown, CA- It was a beautiful day to dedicate the newly remade Gazebo in Jamestown's Rocca Park. The gazebo was remade to preserve the historic structure in the park as it was when purchased in 1984. The estimate for the project was 1,100 hours of labor to complete.
Originally the project was going to cost the county $52,000.  Lions Club President and project co-coordinator Jim Gormely says, "We tore this Gazebo completely down to the ground and built it back up to what it is today."
The project was done in tandem with Tuolumne County Facilities Management, which has jurisdiction over the historic park, the Jamestown Promotion Club, Sonora Lions Club and Sonora Rotary Club.
Gormely says the project ended up only costing the county $4,000 and they finished on March 21st, ahead of the March 31st deadline. "The most outstanding emotional feelings for this was the support we got from the community." He says, of the businesses in the community who donated lumber and paint, "either I got tremendous discounts or tremendous donations." He also noted, "The people would come by everyday and pat the workers on the back which meant more to them than any financial assistance."
Both the Lions and Rotary Clubs and Tom McMullen were recognized by the Tuolumne County Board of Supervisors for completing the project. McMullen was the lead carpenter, who worked eight hours a day for three months. The railings were reportedly done mostly with dowels in keeping with all the same embellishments as before.
Also pointed out at the dedication ceremony, there is more to come for Jamestown. There will be 30 medallion stars put in the sidewalk. Details were reported here. Also there will be a feature on Main st and Seco depicting the town's history in a kiosk.
Details about the Gazebo project from the original news story are here: Jamestown Gazebo Getting-makeover
More recent work was reported at the end of March here.