Supervisors Approve Film History Kiosk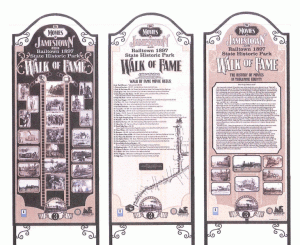 Walk Of Fame Kiosk

View Photos
Jamestown, CA — The Tuolumne County Supervisors enthusiastically agreed to allow a community group to install a kiosk in Jamestown's Rocca Park promoting the area's rich film and television history.
We reported previously that the Jamestown Walk of Fame Committee raised over $30,000 to install bronze medallions promoting locally shot films along a new sidewalk system that will connect downtown Jamestown to Railtown 1897. It will stretch along Seco Street, Ninth Street and Sierra Avenue. As part of the project, the group asked permission to place a kiosk in Rocca Park. One side will show a map of the "Walk of Fame", the second will talk about Tuolumne County's film history, and the third will feature stills from notable films shot in the county.
Because Rocca Park is county owned, the committee needed permission from the Board of Supervisors to install the kiosk. All of the Supervisors spoke very positively about the community project yesterday, and approved it 5-0.
Notable film and television productions shot in the county include Back to the Future III, Little House on the Prairie, Lassie, Petticoat Junction, Dodge City and High Noon.