Jamestown Gazebo Getting Serious Makeover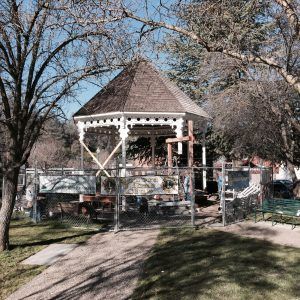 Jamestown's Rocca Park Gazebo Renovation, 1-30-2015

View Photos
Jamestown, CA – The busy sounds of saws and hammers at Rocca Park mean that visitors and regulars of downtown Jamestown will soon again enjoy the charms of its picturesque centerpiece gazebo.
The gazebo, built in 1982, was rife with dry rot, in sore need of a serious sprucing to bring it back to its former glory. Working in tandem with Tuolumne County Facilities Management, which has jurisdiction over the historic park, and the Jamestown Promotion Club, Sonora Lions Club is heading up the estimated $52,000 refurbishment project. Sonora Rotary Club is also on-site, supplying additional manpower. Grant monies, $16,000 from the Sonora Area Foundation, as previously reported, and $5,000 from Chicken Ranch Casino, helped fund the effort.
Jim Gormely, Sonora Lions Club co-chair for the renovation, explains that work will continue in three phases. The first order of business, he says, underway now through next week, is to replace all the posts, most of which were very dry rotted. "Then the floor will be replaced during the month of February. Then in March, phase three is to put back up all the railings with all the ornate designs that are on [them]."
Two local contractors are also contributing to the refurbishment, according to Gormely. Birchwood Cabinets machined the ornate Victorian-style "gingerbread" railings. "I gave them eight trees…and they gave eight pieces of furniture is how I'd like to say it," Gormely chuckles. He credits Central Sierra Remodeling for "supplying tools and an awful lot of advice."
According to Gormely, the gazebo renovation work is on track to be complete by March 31. Current plans are to hold a dedication ceremony in early April. Among other slated beautification efforts are downtown murals and a Walk of Fame from Main Street to Rail Town, which will feature medallions commemorating the town's rich film industry history.