Angels Camp Gateway Project Study Seeks Input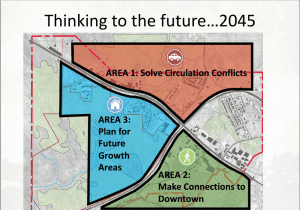 Angels Camp Project slide

View Photos
Angels Camp, CA —  The window is still open to weigh in on the latest multi-agency effort looking at integrating future development plans around the intersection and corridors of Highways 49 and 4.
A coordinated effort involving the Calaveras Council of Governments (CCOG), City of Angels Camp City Council and Caltrans, the Angels Camp Project study initiated last fall was funded through a Caltrans partnership grant. So far this year, public input has been gathered at two of three public meetings planned to address transportation and infastructure opportunities and challenges.
In the second meeting, held last week at Bret Harte High School, three potential map design alternatives were introduced for consideration as part of a larger presentation. Planning Director David Hanham encourages those interested in participating in a related online 18-question survey to do so before Monday, April 27. For survey details, click here.
Hanham also indicates that the third public meeting, tentatively slated for sometime in May, will most probably be pushed out until June or July. At this meeting, the partners hope to hone in on a preferred map design alternative to move forward with for conceptual planning purposes.
"It's the people's community and they need to have an input on how that looks…how that's going to look in the future, and how it's going t affect them," Hanham states.
Hanham anticipates the draft study will probably be finalized by sometime next year, after it makes its way through the Planning Commission, City Council, COG, "and all the places it need to go to," as he says. "We will start seeing 'next steps' or the next generation of what this study did…where we're going to go with it…what we need to do to continue the process and work with property owners to go with some of these things…sometime in 2016," Hanham states. To view the project's most current presentation details, click here.