GOP: Taking Action On Cybersecurity Threats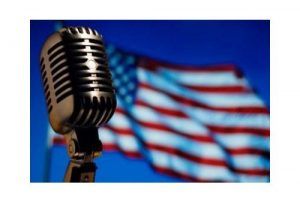 Microphone and US Flag

View Photos
In this week's Republican address, Sen. Richard Burr of North Carolina discussed the growing threat from cyber criminals and foreign adversaries who are becoming increasingly adept at stealing personal information and intellectual property from American businesses, individuals and the government.
Burr was Tuesday's KVML "Newsmaker of the Day". Here are his words:
"Hello, I'm Senator Richard Burr from the great state of North Carolina and I'm honored to chair the Senate Select Committee on Intelligence.
As I'm sure you've noticed over the last year, your personal data has come under increasing threat from a range of cyber attackers, from sophisticated hackers and organized criminals to agents of foreign powers.
It could even be all three.
In the last year, companies like Target, Sony, JP Morgan and Anthem Blue Cross Blue Shield have been hacked, leaving millions of customers' personal and financial information vulnerable.
Maybe even yours.
This means that data about your life and your family could be out in the open.
Cyber attackers, often in other countries, are cracking into the vaults of our companies and our government.
They're stealing your personal information as well as the intellectual property that makes our economy the most creative and vibrant in the world.
When asked why he robbed banks, Willie Sutton simply said "because that's where the money is."
In the same way, cyber-criminals and our foreign adversaries are probing our computer systems and stealing our data.
As a result, your social security number, addresses, date of birth, financial information, family history and more is available to hackers.
Many estimate the direct financial loss and theft of intellectual property costs our economy hundreds of billions of dollars every year.
But it doesn't have to be this way.
There are steps Congress can take to help both government and the private sector understand these attacks better, and warn each other about them.
That's just what my colleagues and I have worked to do on the Intelligence Committee.
Over the last several years, we have listened with increasing alarm to the testimony of senior intelligence officials and private sector experts about the growing cybersecurity threat to our nation.
As criminals and other adversaries grow more capable, our nation becomes more vulnerable to cyber-attacks every day.
Our biggest cyber weakness is that our citizens and private entities don't have accurate or real-time insight into the damage that's caused by cyber-attacks.
Today, I want to propose a first step in addressing this growing problem.
The bipartisan Cybersecurity Information Sharing Act of 2015 is sponsored with me by Dianne Feinstein and Senator John McCain.
It creates a cybersecurity information sharing environment that works much like a "neighborhood watch" program — allowing all participants to get a better understanding of the current cybersecurity threats that may be used against them.
And while we're ultimately trying to keep your information private, let's also talk about how this bill is going to ensure that's the case on the government's end as well.
Information sharing's covered by the bill and its 100-percent voluntary. No one is forced to share information in any way.
The bill requires that a company removes private data before sharing anything with the government. No company is allowed to share data unless it is directly related to the cyber-attack itself.
After hundreds of calls with the government, business community, and civil liberties groups, I am confident that Senator Feinstein, Senator McCain, and I have put together a balanced approach that will help your private information stay just that way – private.
I am pleased that the Senate Intelligence Committee agreed, and approved the bill by an overwhelming bipartisan vote of 14-1.
This threat is real, and the increasing number of attacks has a tangible impact on our economy and our national security.
Today, we have a solution that can minimize the threats to your own personal information, keep the economy strong, and help secure the nation.
Thank you for listening and God bless."
The "Newsmaker of the Day" is heard every weekday morning on AM 1450 KVML at 6:45, 7:45 and 8:45 AM.