GOP: Our 2016 Budget Plan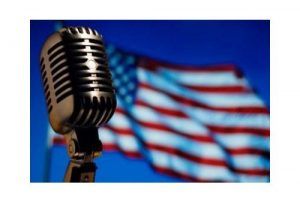 Microphone and US Flag

View Photos
Wyoming Sen. Mike Enzi gave this week's Republican address, previewing the budget proposal for the 2016 fiscal year that the Senate will vote on next week.
Enzi was Tuesday's KVML "Newsmaker of the Day".
"Hello. I'm Senator Mike Enzi of Wyoming.
I am also an accountant and chair of the Senate Budget Committee. This week we started the monumental task of confronting America's chronic overspending; tackling our nation's surging debt; and balancing our nation's budget.
Before coming to Congress, I ran a small business in Wyoming for many years, I served as a mayor of my hometown, then as a state legislator. And in those roles, one of the most important jobs I had was to ensure my budgets were balanced every year. It is time to begin this responsible accounting in Washington, because while you can lie about the numbers, the numbers never lie.
The worst kept secret in America is: this Administration is spending more than ever and taxing more than ever. The federal government should spend your tax dollars wisely and responsibly, and give you the freedom and control to pursue your future, the way you choose.
Hardworking taxpayers deserve a government that is more efficient, more effective, and more accountable. This should be something both parties agree on – because no one wants an inefficient, ineffective and unaccountable government.
Runaway spending habits over the past six years have created a dangerously growing debt, because the habit of spending now and paying later is deeply ingrained.
Federal revenues have hit record highs. Yet, we're on track to overspend by nearly $1 trillion a year – to put that into perspective – that is $1000 billion dollars. And the more Washington overspends, the more debt we owe, and the more is added to the debt for future generations.
Today America's debt totals more than $18 trillion. In fact, every man, woman, and child now owes more than $56,000 on that debt, and that number is expected to grow to more than $75,000 over the next decade, unless we make important changes.
Every dollar spent on interest and our debt is another dollar we won't be able to use for government services for individuals in need, or another dollar that won't be available for taxpayers for their own needs.
It is time to stop talking and start acting.  Washington must live within its means – just like every hardworking families do every day – and deliver a more effective and accountable government to the American people that supports them when it must and gets out of the way when it should.
We didn't get here overnight – and we won't fix it overnight. But we can begin to solve this crisis if we act now.
Republicans have put forward a responsible plan that balances the budget in ten years with no new tax hikes, that protects our most vulnerable citizens, it strengthens our national defense, and it improves economic growth and opportunity for hardworking families.
A balanced budget means real accountability in Washington and ensures that programs actually accomplish what they set out to deliver.
A balanced budget supports economic growth for hardworking families, and creates real opportunity for all Americans to grow and prosper.
A balanced budget allows Americans to spend more time working hard to grow their businesses or advance in their jobs, instead of worrying about taxes and inefficient and ineffective regulations. It also means our job creators can find new opportunities to expand our economy, and most importantly, it means every American who wants to find a good-paying job and a fulfilling career has the opportunity to do just that.
That's what a balanced budget means for our nation – and it's what the American people deserve.
Congress is under new management and by working together to find shared ground on commonsense solutions, we can deliver real results and real progress.
Thank you for listening."
The "Newsmaker of the Day" is heard every weekday morning on AM 1450 KVML at 6:45, 7:45 and 8:45 AM.