Mokelumne Hill Matriarch Passes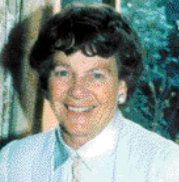 Mary Jane Garamendi

View Photos
Mokelumne Hill, CA – She considered herself a "lucky lady" due to her many years of good health, family and Gold Country heritage, according to her family.
Just short of her 94th birthday, Mary Jane McSorley Garamendi, the matriarch of the Garamendi family and a lifelong resident of Calaveras County passed away on March 19 at her ranch in Chili Gulch near Mokelumne Hill.
Her family says she was a member of the "Greatest Generation," a World War II Army spouse, who exemplified the virtues of family, community, and service. Born in Berkeley, California on March 21, 1921, she grew up in Calaveras County, attending Mokelumne Hill Elementary School and Calaveras High School (Class of 1938). She earned a teaching degree from the University of Nevada Reno (Class of 1942), where she met and married fellow student Raymond V. Garamendi.
The couple had six children; among them, current U.S. Congressman John Garamendi, formerly California Lieutenant Governor.  In 2009, she was named the State of California "Woman of the Year."  In 2005, the Garamendi McSorley Ranch received the California Agriculture Heritage Award and the Calaveras County Fair & Jumping Frog Jubilee honored the family for their significant contributions in education, agriculture, and government. Garamendi also belonged to many community organizations; among them the Calaveras County and Mokelumne Hill historical societies, the Calaveras County Democratic Club and Central Committee.
A funeral mass will be held at 10 a.m. Saturday on what would have been her 94th birthday at the Garamendi McSorley Ranch (5749 Highway 49  Mokelumne Hill), followed by a graveside service at the Catholic Cemetery in Mokelumne Hill and a 1 p.m. reception back at the ranch.
A memorial fund has been set up to support the annual California History Day held in Mokelumne Hill.  Donations may be made to the Mokelumne Hill Community Trust at PO Box 375 Mokelumne Hill, CA, 95245, to the Mokelumne Hill History Society at PO Box 267 Mokelumne Hill, CA 95245, or to the charity of your choice.