Details On Federal Disaster Grant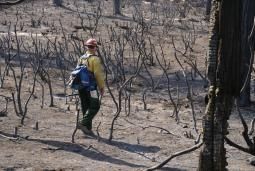 Soil Scientist evaluating a burned area of Rim Fire

View Photos
Sonora, CA —The Board of Supervisors further discussed and approved continuing to move forward to apply for a federal grant to fund Rim Fire recovery projects.
California is eligible to receive federal funds through the $1-billion National Disaster Resilience Competition. There are 67 other eligible applicants, defined as low income communities that are rebuilding from natural disasters declaired by President Obama between 2011 to 2013. The grant program is a joint effort between the U.S. Department of Housing and Urban Development (HUD) and the non-profit Rockefeller Foundation. The Rim Fire is the only qualifier for California, and the state is helping Tuolumne County with the application process. Other entities that are involved include the U.S. Forest Service, Caltrans, PGE and T.U.D.
The most that an individual disaster is eligible for is $500-million. The application deadline to HUD has been extended from March 16 to March 27. HUD will decide which applicants move on to phase two of the process, sometime in June and the final awards are expected to be announced in December.
Maureen Frank, Deputy County Administrator, says "We are going to assume that we are going to be passed onto phase two. We feel really good about our application as it stands right now." Phase two will outline an oversight committee that will manage five sub committees. The five committees that are proposed to report to the oversight committee were defined by Frank as "outreach and engagement, social equity, work force development and economic opportunity, natural systems and resources and built environment and infrastructure."
Specific project proposals do not need to be defined until phase two of the process which if selected will be due by October. Projects are proposed to be grouped into three key areas: watershed and forest, economic development and community safety and health. Supervisor Sherry Brennan requested that the list of economic development types of projects be modified to: Provide job training opportunities, increase year round employment, support multiple use benefits of public lands like wood products, tourism and recreation so that it would include help for ranchers.
Supervisor John Grey questioned Frank about San Francisco. Frank said the city has been contacted but has declined to participate. In explanation it was mentioned that the City of San Francisco wants to fund their protects with their own money without federal oversight.
The full 47 page draft for the phase one competition application is here.