Warm Weather Means Allergies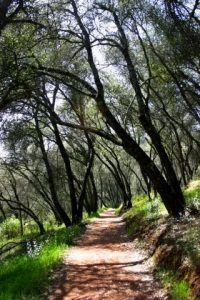 Path In Oak Trees

View Photos
As temperatures warm in the Mother Lode, allergies and other concerns that are typically related with the Spring, are beginning to have an effect in the Mother Lode.
Dr Dean Kelaita, Calaveras Public Health Officer, was Friday's KVML "Newsmaker of the Day".
Hay Fever includes nasal congestion, runny nose, watery eyes and other symptoms.
Kelaita has noticed an uptick over the past few weeks of people who are already dealing with pollen, grasses and blooming plants typically associated with allergies.
Additionally, the Health Department reminds residents to take preventive steps to ensure a healthy spring season.
Although Spring is technically still a month away, recent rains and warming temperatures could mean an early mosquito and tick season. Taking steps to reduce the chances of being bitten by these pests can prevent West Nile virus and Lyme disease.
"It is still important to take preventive steps to avoid being infected," stated Kelaita. "West Nile virus is spread to people from the bite of an infected mosquito. Bites can be prevented by using an insect repellent containing DEET or Picaridin."
West Nile Virus is a disease that is spread to people and animals by infected mosquitoes.
"Most people infected with West Nile virus will not get sick or will only experience mild flu-like symptoms," said Kelaita. "Rarely, the virus causes an inflammation of the brain resulting in serious illness or death."
West Nile virus is most often present from spring to late fall when mosquitoes are breeding and most active. The first line of defense against West Nile Virus is preventing mosquito breeding to decrease possible exposure to infected mosquitoes.
Residents of all ages should also protect themselves from mosquito bites by wearing insect repellent with Deet, Picaridin or oil of lemon eucalyptus and limiting outside activities at dusk and dawn.
For information call the Calaveras County Public Health Department at (209) 754-6460. Also click, httpp://www.co.calaveras.ca.us/cc/departments/publichealthdepartment.aspx
The "Newsmaker of the Day" is heard every weekday morning on AM 1450 KVML at 6:45, 7:45 and 8:45 AM.