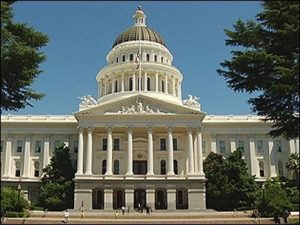 California Statehouse

View Photos
Sacramento, CA — Nearly one out of every three Californians is now covered by the state's Medi-Cal program for lower income residents.
Medi-Cal has expanded under the federal Affordable Care Act, and 12 million Californians now receive healthcare coverage through the joint state-federal program. Some California lawmakers, and advocates, fear the program is expanding too fast, and without major reforms, it will be difficult to provide quality healthcare for the enrollees. Lawmakers are currently discussing numerous Med-Cal related bills in Sacramento.
The non-profit California HealthCare Foundation reports that 76 percent of primary physicians now accept new patients through private insurance, but only 57 percent accept Medi-Cal insurance. Med-Cal is largest health care purchaser in the state, and often pays doctors and hospitals less for health services than private insurance.