Gusty Winds Expected Throughout The Region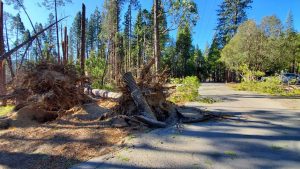 Downed tree in Yosemite (File Photo)

View Photo
The National Weather Service has issued a Wind Advisory for the Northern San Joaquin Valley now through 7 PM tonight (Tuesday).
Sustained winds of fifteen to thirty mph are likely, with gusts up to forty mph at times.
Additionally, a High Wind Warning for Yosemite National Park outside of the valley, will be in effect from 2 PM this (Tuesday) afternoon through 4 AM Wednesday.
Consistent winds of thirty to forty mph are expected, with gusts near sixty mph.
Damaging wind gusts could blow around unsecured objects. Fasten loose objects or shelter outdoor objects in a safe location prior to the onset of winds.
Trees, tree limbs and power lines could be blown down and a few power outages may result.
During the High Wind Warning, people should avoid being outside in forested areas and around trees and branches. If possible, remain in the lower levels of your home during the windstorm, and avoid windows.
Use extra caution when driving, especially if operating a high profile vehicle.