Taxed By Miles Not Gallons?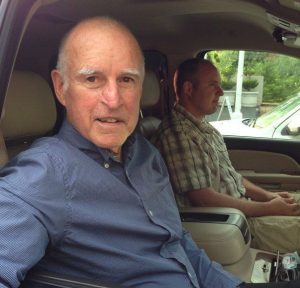 Governor Brown at the Mother Lode Fair: Photo taken by: Tracey Petersen

View Photos
Sacramento, CA — Lower gas prices and vehicles that are fuel-efficient and electric mean less tax dollars for California to use for infrastructure repairs. So, lawmakers are searching for new ideas on how to raise funds to pay for crumbling roads, bridges and highways.
Already the dip in gasoline taxes has contributed to an annual $5.9 billion backlog in state highway repairs.  One idea under study by Governor Jerry Brown's administration would be to tax drivers by miles traveled, not gas guzzled.  It's a plan that might take awhile to implement as changing the system could take more than five years, according to Brown's office.
Among the more immediate fixes being looked at: charging a dollar per week fee to most drivers; making a temporary hike in the gas tax; diverting funding from the state debt to road projects; and/or charging a toll on carpool lanes.  However, critics argue the loss in tax revenue will continue, especially with the Governor's goal for an eco-friendly fleet to use half as much gasoline by 2030.